We just as easily could have titled this post "Alumni in Action," as Dr. Andrea Villanes checks both boxes: she is a 2009 graduate of the MSA program and a teaching assistant professor at the Institute.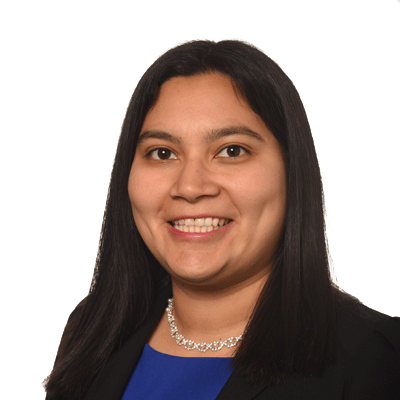 Inspired by her aunt, who earned a Ph.D. from NC State when Villanes was young, Villanes went on to complete a second master's degree as well as a Ph.D. in computer science, deepening her knowledge of text mining, sentiment analysis, and visualization techniques. During that time she interned with Walmart, where her text mining work garnered her the Walmart Leadership Excellence Awards Scholarship. She also served a one-year term as president of NC State's Women in Computer Science (WiCS) student organization. 

Dr. Andrea Villanes (left) troubleshoots a difficult problem with Sam Scarpino '20 and Urmila Patil '20 during office hours.
While working toward her advanced degrees in computer science, Villanes served as a teaching assistant and, later, an instructor at the Institute before being named a member of the faculty in 2019. Her longtime involvement with the MSA has afforded her opportunities to contribute to the program's continued growth and evolution over time. Villanes said her favorite part about teaching MSA students "is the different backgrounds of each student, and to see each of them grow as a data scientist during the year. The students we meet in the summer rapidly mature in all aspects of their technical knowledge. They also become better presenters and communicators. They truly make us proud at the end of the year." 
In addition to teaching, Villanes is actively involved in the broader data science community. She is the co-founder of Women in Technology Perú, which brings together women who are interested in different areas of technology, as well as the co-founder of Zunti, a new entrepreneurial venture that promotes the use of data science in companies in Latin America.
"I regularly speak at different events in my home country, Perú, where I am constantly reminded that knowledge nowadays is truly global," said Villanes.
Recently, she led a webinar about "Preparing for a Successful Career in Data Science from Anywhere in the World" as part of the Institute's Exploring Data Science series. (Access the recording here.)
Outside of data science, Villanes enjoys listening to podcasts and traveling with her partner. "A few of my favorite places to visit have been Patagonia, India, Bolivia, Northern Ireland, and London," she said.