Villanova, PA; State College, PA; Providence, RI; New York City, NY; St. Louis, MO; Columbus, MO; Eugene, OR; Bozeman, MT; Columbus, OH; DC; Winston-Salem, NC. These are all the places I went from the beginning of January until mid-March 2020 for my job as a traveling consultant for my sorority. Flying to a new university, sometimes completely across the country, was a weekly part of my schedule for the first three months of the year. No masks, no extra sanitization, no fear. The same was true for another 2.5 million Americans who flew daily in the first week of March before COVID-19 was named a pandemic and the Trump administration declared a national emergency on March 13th. 
This was the time my boss told my coworkers and me that we would finish our contracts virtually. It wasn't safe to fly any longer, and many of our next visits were to schools which had already decided to keep students home after spring break. Shortly after, I found out that my MSA classes would be delivered remotely for the foreseeable future. I flew for the last time on March 15th to get home using my scarf as a face mask because every store in Bozeman, Columbus, and DC was sold out. Many others also stopped flying, and air travel came very close to a standstill compared to 2019 flight frequencies. On April 14th, only 87,000 people went through TSA as compared to the 2.2 million who went through TSA on the same weekday in 2019.
As we approach the anniversary of the start of COVID-19 in America, many people are struggling with feeling isolated. Cancelled vacations, family visits, and work trips may cause people to start perusing for flights without considering the unintended consequences. Particularly at the IAA, students may be looking into mid-semester or post-graduation flights to visit family and friends after an intense semester. The spring semester will likely be delivered entirely virtually due to the pandemic. However, flying is risky because it is difficult to maintain distance in the terminals and planes. Because of this, it is important to avoid flying when possible to protect others and stop the spread.
Flight Trends Before and During COVID
In Figure 1, we see relative consistency in the number of people flying daily across the nine months in 2019. In 2019, we see a cyclical pattern of travel. After March 13th, 2020, flight numbers dramatically decreased and stayed low until mid-May. There was little to no weekly cycle like we could see in 2019, and while people flew consistently, they did so in very small numbers throughout the country. A cyclical pattern began to form in 2020 starting after mid-May.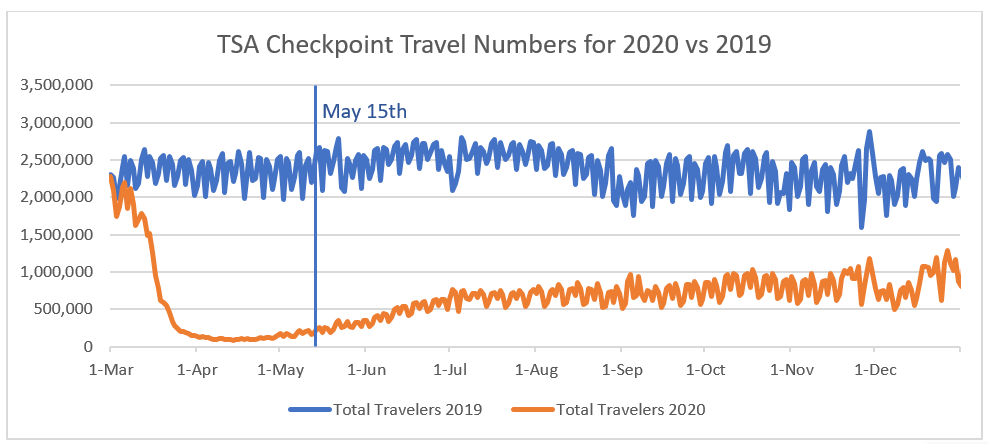 COVID Cases Grew When Restrictions Were Lifted
Mid-May, when more people began flying again, is the same time local governments began lifting COVID restrictions in many states. Figure 2 shows that daily new cases trended downward at this point in the pandemic, and people were anxious to get back to "normal." Unfortunately, leading our normal lives helps spread the virus. In late June through July, there was a big spike in daily cases, and there has mostly been an upward trend in cases in America since then as illustrated in Figure 2.
Two months ago, the peak number of new cases was on November 6th with 132,830 new cases on that day. Only a few weeks later, on December 11th, we see another peak with 246,716 new cases on that day. The virus continues to spread faster and faster in America as time goes by. (United States COVID-19 Cases, 2020).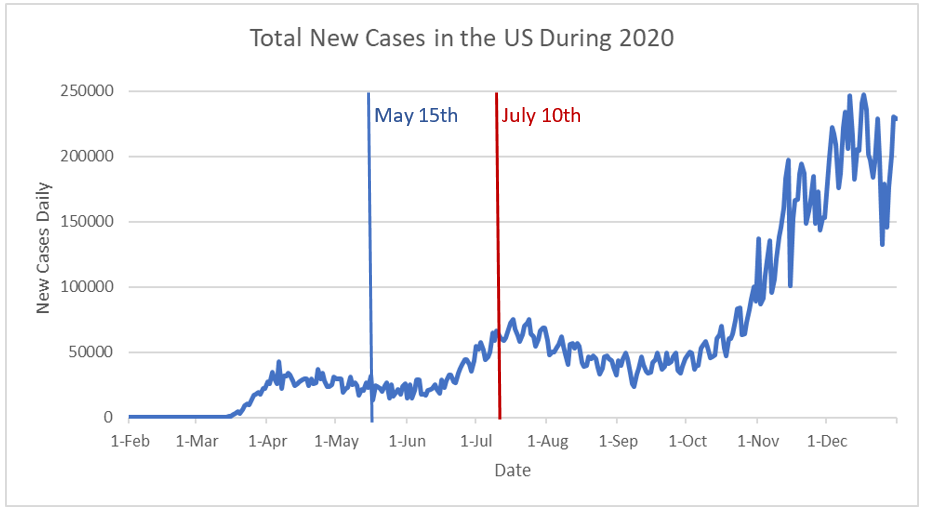 The Center for Disease Control (Domestic Travel During COVID, 2020) ranks direct flights and flights with layovers as two of the riskiest ways to travel. "Air travel requires spending time in security lines and airport terminals, which can bring you in contact with other people… Keeping your distance is difficult on crowded flights, and sitting within 6 feet of others may increase your risk of getting COVID-19." The increase in the number of people flying could have an impact on the increasing number of cases in the US.
We have been in a lockdown and social distancing lifestyle for nine months now, and it is natural that people want to return to normal life, despite the risk. States started lifting restrictions as early as May, and we can see the associated spike in daily new cases as a result in June and July. Regardless of the upward trend in cases, people will take the lead of the government, especially when people in charge tell us that COVID is no big deal and only affects a small percentage of the population. Even though over twice as many people traveled via plane in December than June, there are more than six times as many new cases every day now than in June. Americans are beginning to travel again as if things are back to normal, but we are far from it.
Reflection
There is some hope on the horizon with the COVID vaccine distribution. More than 4.2 million initial doses have been administered to health care workers in America. However, according to the Center for Disease Control (Frequently Asked Questions, 2021), it isn't immediately effective. Vaccine recipients must wait 3-4 weeks before receiving a second dose to be considered 91% protected from the virus. There are also limited plans in place for making the vaccine available to all Americans. So, there is still a lot of time between now and when it will truly be safe to return to normal life.
We still must do our part to stop the spread, including limiting the potential for exposure through flying. Flying is particularly dangerous because anything you pick up on your trip, you bring to your destination and back home. Even if COVID will not affect you, or you could recover quickly without lasting effects, you could bring it to someone else with fatal results.
COVID-19 brought life to a standstill, and after almost one year, it is understandable to want to travel and get back to a normal life. If you do choose to fly, please do it safely. Follow CDC guidelines and get tested before your trip and after you return, so you can protect those around you.
McKenzie Jones
Sources Cited
Domestic Travel During the COVID-19 Pandemic. (2020, February 11). Centers for Disease Control and Prevention.
Frequently Asked Questions about COVID-19 Vaccination. (2021, January 6). Centers for Disease Control and Prevention.
TSA checkpoint travel numbers (current year versus prior year/same weekday) | Transportation Security Administration. (2021, January 3).
United States COVID-19 Cases and Deaths by State over Time | Data | Centers for Disease Control and Prevention. (2021, January 5). Centers for Disease Control and Prevention.