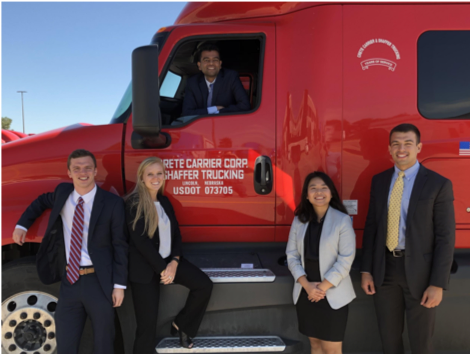 NC State's Master of Science in Analytics (MSA) students are now in the second month of their eight-month practicum projects. With kickoff meetings completed and non-disclosure agreements signed, all 24 project teams have familiarized themselves with their sponsor organizations' data, and are beginning to clean and prepare the data for analysis. Ultimately, they will present solutions to their practicum sponsors' business problems. 
This month, we'd like you to meet the Crete Carrier practicum team. Founded in 1966, Lincoln, Nebraska-based Crete Carrier Corporation, along with operating division Shaffer Trucking and wholly-owned subsidiary Hunt Transportation, Inc., ranks as one of the largest privately owned trucking companies in the U.S., offering a full range of transportation services to its customers. This practicum team is liaising with Crete Carrier's Vice President of Analytics and MSA alumnus Justin Feerhusen '15.
"Our team members have taken their own unique paths to be here," said team lead Samir Patel. "Our diversity is very beneficial because everyone brings in a refreshing perspective to a problem that is new to all of us. It's been a pleasure working with my team so far and I look forward to solving this practicum with them!"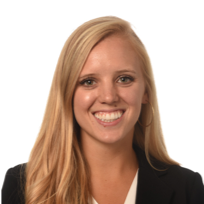 Ellie Caldwell studied mathematical statistics at Wake Forest University, where she served as Women's Club Volleyball team president and conducted research on the relationship between students' socioeconomic status and their standardized test scores. School officials considered the results of her study when identifying possible instructional solutions for struggling students. A native of Hendersonville in the mountains of North Carolina, Caldwell enjoys hiking and trail running. She extended her zeal for exploration further through a six-week study abroad program in Buenos Aires, Argentina.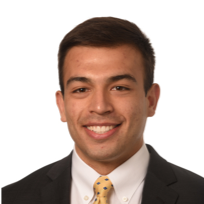 As an undergraduate at NC State, Raleigh native Zach Lewis double-majored in economics and statistics and held a research position with Juntos NC, a non-profit organization that supports Latino high school students in attaining higher education. In addition to building surveys, analyzing results, and generating reports, Lewis developed evaluation metrics for Juntos NC's annual Summer Academy used to inform restructuring of the program. Lewis spends much of his free time lifting weights and running — and using analytics to track workouts and caloric intake to achieve his fitness goals.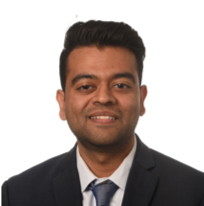 After completing bachelor's degrees in statistics and mathematics education at NC State, Samir Patel worked as a statistician in educational research at RTI International. In that role, he ran non-response bias adjustments for middle school surveys and created weights for a more accurate representation of the population during survey selection. A London native and passionate Manchester United fan, Patel has been enamored with soccer statistics from an early age. For fun, he participates in running competitions of various distances and recreates cultural family dishes from his grandmother's recipes.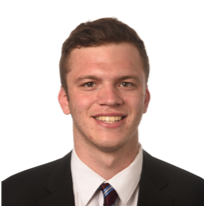 Chicagoan Charlie Ruff studied business analytics and finance at the University of Iowa. Like practicum teammate Patel, Ruff's love for sports statistics is what led him to the analytics field. During college, he and three classmates won Merkle Inc.'s 2018 March Madness analytics tournament, correctly predicting the outcomes of more games than 50 competing teams. He also applied his skills while working in his university's Center for Advancement, collaborating with data science and finance professionals to develop a model to predict future cash flows and determine investment strategies.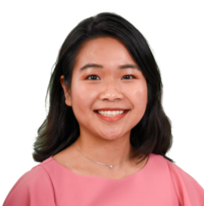 Cathy Tran double-majored in politics and economics at Ithaca College, where she was the first international student to win the annual Campus Life Award. While interning in Cornell University's Human Resources Department Tran used regression modeling to analyze employment satisfaction surveys, and while working as a trade enrichment analyst at Fifth Third Bank in Cincinnati she built a market validation report to confirm the trading price of all publicly traded commodities. A native of Vietnam, Tran enjoys spoiling her friends with Pho and other homemade dishes.