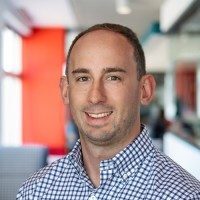 Meet Chas Stikeleather '16. After completing his undergraduate degree in economics at Stetson University, Stikeleather spent time researching next steps for his career and assisting his father, a business leader and academic, with his book and blogs. As he learned more about the future of business, Stikeleather became increasingly interested in big data and analytics and decided to pursue the MSA. Following graduation from the MSA program, he joined Bain & Company in their Atlanta office and is currently a Data Science Team Leader.
How did you first become interested in the field of data analytics?
I was reading an article about how GE, with the power of analytics, was creating a jet engine that would last forever, utilizing analytics to do predictive maintenance. This was fascinating on its own, but what really caught my attention was how this new jet engine would require GE to change their business model from a retail model, selling jet engines, to a service model, selling jet thrust. If you are selling jet engines that last forever, your customers only need to buy from you once — not great for a long term sustainable business. This example really demonstrated the power analytics will have on businesses, and I wanted nothing more than to be a part of it.
What was your greatest highlight during your time as an MSA student? 
My classmates. Not only was I able to learn a tremendous amount from them, they became some of my closest friends.
You were the first MSA graduate to be hired at Bain & Company. How did your MSA experience prepare you for your career at Bain after graduation? 
To me, the technical analytics is only a small portion of what you learn at the MSA. Communication, teamwork, and thinking from a business point of view are the big components of the MSA that led me to be successful at Bain. Having interviewed graduates from a variety of different graduate programs, the professional skills is what stands out the most to me about the MSA students. It is not difficult to build a regression, but the ability to communicate the purpose and results of the regression effectively is rare.
Can you elaborate on the work you are doing as a Data Science Team Leader at Bain?
As a Team Lead, I am making the transition into a manager. I split my time between being a lead on analytics projects and supporting my direct reports on their projects and their professional development.
What advice can you offer to prospective MSA students?
DO THE MSA. Working at Bain, I have the opportunity to see how analytics is changing and disrupting the way companies do business. In every industry and in every department there is a way analytics can improve upon the current ways of doing things. 
What do you enjoy doing for fun outside of your analytics work?
When I am not working, I am trying to do stuff outside. I enjoy going on bike rides, fishing, or just enjoying a beer with friends at a local brewery.