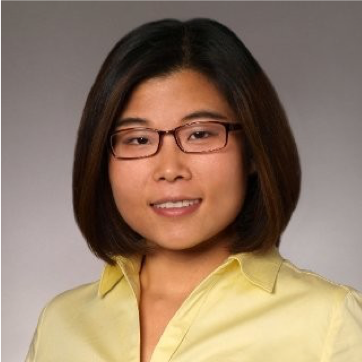 Meet Jing Zhao '12. She entered the MSA program with bachelor's degrees in advertising and English literature from China's Harbin Institute of Technology, as well as a master's in communication from NC State. Upon completion of the MSA, Zhao joined Deloitte's Raleigh office, where she has built a successful career in professional services and currently manages the Applied AI team. Zhao remains connected with the Institute as a volunteer admissions interviewer and prospective employer of new MSA graduates and attended our inaugural Alumni Weekend earlier this year. 
How did you first become interested in the field of data analytics?
Zhao: I applied to the MSA program in the winter of 2011, when the Institute for Advanced Analytics was only four years old and the landscape of data and analytics was very different from today. Andrew Ng hadn't founded Coursera and put out his machine learning trainings, Nate Silver was just about to be called "Lord of the Algorithm" from predicting the Obama 2012 election win, and not many people at the time had any clue what a cloud was. I was clueless as well, until I started a project at work and used SPSS to analyze sales data by market type for a software company. At the end of the project, I knew I didn't have all the answers — What drove sales revenue? What types of customers would subscribe vs. discontinue after initial purchase? And what could the organization do differently about different markets? With these questions in mind, I sent my application to the Institute with a mission to find my "answers" there.
Tell us about a highlight of your MSA student experience.
Zhao: I was selected as a practicum team lead at the end of the summer. My practicum team members came from diverse backgrounds, from fresh undergraduates in their early 20s to a veterinarian with two dozen years of work experience and lots of fascinating stories about endangered species. I learned to be a team lead by building and maintaining trust, keeping the team updated and organized, and focusing on common goals and results. In our team, everyone contributed and supported each other. We had good friendly arguments and also challenges that taught us to become better people. The highlight of all this is that I made friendships that lasted beyond the program.  
How did your role as an MSA practicum team lead help you in your career after graduation?
Zhao: With a focus on a shared learning experience, the MSA program created a teaming environment that looked and felt like one in a real-world business. The leadership and teaming experience brought me one step closer to understanding what the business world looked like and helped me get to where I am today — managing analytics teams at Deloitte. The qualities and soft skills acquired through the practicum leadership experience made my transition from school to consulting easier. When I started in client-facing roles, I felt like I already knew some best practices from interactions with my MSA practicum sponsor.
Your experience as a data scientist is focused on the life sciences and healthcare industry. What led to this interest? What impact do you hope to make in this industry through your work?
Zhao: The dynamic environment in consulting gives me the opportunity to work with different clients and different types of projects. Having worked in a handful of industries, I built my brand in life science commercial analytics and had partners who trusted me to deliver and mentored me to grow professionally. The work I lead helps life science companies make informed decisions about where to target sales and marketing spend, how to better engage with patients and health care providers, and areas for improvement of organizational efficiency and effectiveness. I find it most rewarding when a client implements the model or process I help develop.
What do you enjoy doing for fun outside of your analytics work?
Zhao: Most weekends, you can find me in a local park, playground or beach spending time with my two kids (a 3-year-old son and 6-month-old daughter). I also enjoy being outdoors and exercising when I feel stressed. My new favorite routine is high-intensity interval workouts in the mornings because I can get the most out of the limited time I have. Efficiency is key for a working mom!