On January 19, NC State's Institute for Advanced Analytics hosted its inaugural Exploring Data Science: A Symposium for Minority Students. The purpose of the Saturday event was to introduce those with a budding interest in data science to the ways in which today's professionals use data to solve complex problems across industries. The symposium's 54 participants ranged from high school juniors and seniors to college grads contemplating career moves into data science.
In addition to lectures and workshops by Institute faculty and staff, Exploring Data Science afforded attendees opportunities to network with a dozen or so alumni of NC State's Master of Science in Analytics (MSA) program. Alumni Kelsey Campbell '16 and Emily Hadley '18 delivered talks in the Hunt Library's Creativity Studio — an ideal location, as each of their presentations aimed to challenge audiences to think creatively about how data analytics can be used.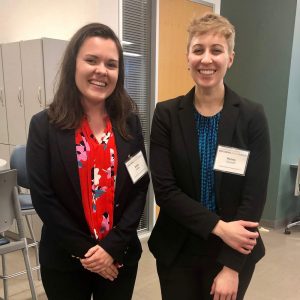 Hadley, who holds undergraduate degrees in statistics and public policy from Duke University, is a data scientist at RTI International in North Carolina's Research Triangle Park. Her session examined algorithmic bias — what happens when computers are trained to make decisions, but the instructions used to train them reflect the implicit biases of the humans who developed them. She also offered perspectives on how data scientists can mitigate algorithmic bias.
"Good intentions are not enough, especially when it comes to building and implementing algorithms," Hadley said. "My hope was that students from a variety of backgrounds and interests would learn more about algorithmic bias and understand how it might affect them. For at least one student, I believe I accomplished my goal as he said, 'My roommate told me that our government would run more efficiently if it was run by artificial intelligence, and after this presentation, I now understand why that would actually be dangerous.'"
Campbell, a graduate of Purdue University's Krannert School of Management with a BS in economics, is a data scientist at Visionist, Inc. in Columbia, Maryland. She led a session on opportunities for data scientists to apply their skills beyond their professional careers, through data-for-social-good endeavors and other passion projects. To illustrate this, Campbell highlighted her own participation in a weekend-long Queer Health Hackathon, wherein 75 data scientists, health providers, and policy experts came together to better understand health disparities in the LGBTQ+ community through collaboration and coding.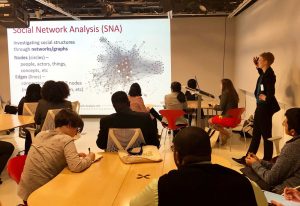 "From discussions after my session, I think I got some students thinking about how data skills could benefit more than just the business world," said Campbell. "As an alum, I felt proud to be visible as a member of the LGBTQ+ community, and show that professionalism and career success don't have to come at the expense of authenticity."
"Kelsey was very knowledgeable and inspirational," said symposium participant Ethan-Cole Evans, an NC State undergrad double-majoring in textile engineering and international studies. "I've been looking forward to this event and it exceeded expectations."
Hadley, a former AmeriCorps College Adviser who worked with high school students in rural North Carolina before entering the MSA program, acknowledged that she didn't know what data science was until a few years ago. "Events like Exploring Data Science are critically important to improving the diversity and inclusivity of data science," she said. "It was great to talk with the next potential generation of data scientists about how important they are to shaping this rapidly expanding field."