One benefit of being home to the nation's first Master of Science in Analytics program is that NC State's Institute for Advanced Analytics' broad network of alumni and returning employers affords current students myriad opportunities to create professional connections. These connections, in tandem with a robust palette of dedicated career services, contribute to MSA graduates' positive outcomes.
Among the organizations with whom the Institute has cultivated longstanding relationships is JPMorgan Chase, a multinational investment bank and financial services company. Dee Pai, Head of Chase Marketing Analytics and Targeting in Columbus, Ohio, said the company has hired approximately three MSA graduates during each of the past five years.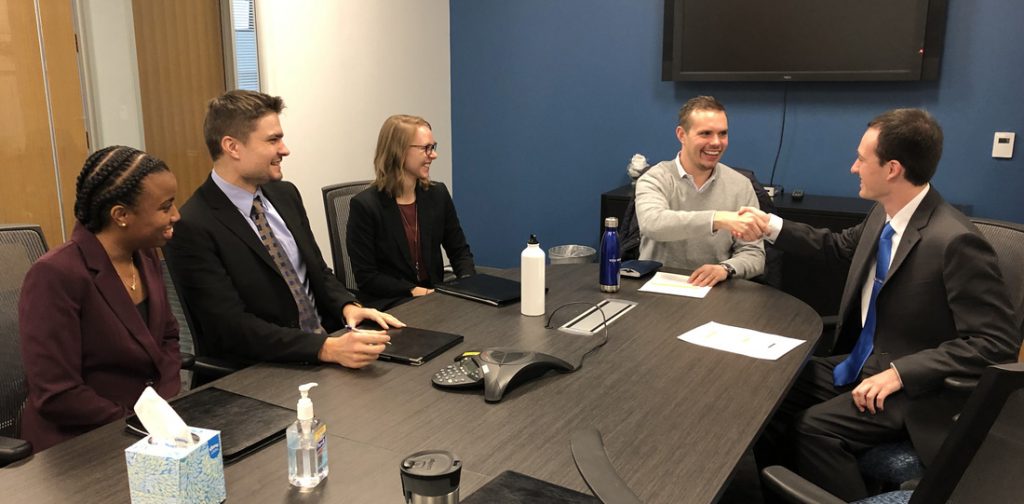 "Since NC State provides the graduates a good training of programming skills (SAS, Python, SQL, etc.) as well as communication/presentation skills, it makes the learning curve much shorter after they join Chase," Pai said. She noted that MSA alumni already established within the firm help new MSA grads adapt quickly to the company culture.

Likewise, global management consultancy Bain & Company, Inc. has hired five NC State MSA graduates over the past three years, and is currently recruiting from the MSA Class of 2019.

"NC State's MSA graduates are prepared to hit the ground running both from a technical and soft skills standpoint," said Janine Morgan, Senior Manager for Bain's Advanced Analytics Group in the Los Angeles area. "The graduates have a strong statistics foundation and have been taught a variety of analytical techniques which allows them to immediately contribute to solving our clients' toughest problems."

Morgan highlighted the MSA capstone, an 8-month practicum project, as being particularly relevant to the consulting industry. "This allows the MSA graduates to come to us with hands-on experience working with both structured and unstructured data to solve a client problem," she said.
Morgan added, "Another key differentiator is that the MSA program emphasizes soft skills such as team collaboration and customer-focused communication which are important for our business. It is this unique educational experience that sets the graduates up for success at Bain."
Indeed, the Institute's alumni report suggests that the MSA sets graduates up for success across diverse organizations and industries.