"I haven't been awake at this hour in years…" I thought as I glanced at the clock in disbelief. It was nearing two AM and our team's email chain had grown to ninety-some replies. Something seemed to be wrong with our slide deck, which was due in six hours. I could feel my stress level rising. I was starting to worry and doubt all our hard work. How can I fix this? What can I do? Then it hit me. I should do nothing. I needed to trust my teammates when they said they'd take care of it, and go to bed. So, I did. I shut my computer screen and trusted that they knew what they were doing.
Twelve hours later we were practicing our presentation for the fourth time. We shared feedback after every practice run and I could sense that we were all fully invested in the entire presentation and not just our own sections. It was all coming to life right before our eyes. My apprehension was slowly but surely turning into excitement and I could feel it all finally coming together. It was an inspiring environment to be in. I thought, "this is what it's like to be on a team where we all put the team first."
The next day our presentation went perfectly. We were laughing, high fiving, and practically crying because we were so happy with the final result. Yet, amid our joy, I started to feel a sense of sadness creeping in. I was coming to the realization that this team wouldn't be working together anymore. I knew that I'd miss this group because we'd had so much fun. The late nights and long hours were all worth it because we cared about and enjoyed each other as people.
Two days later, we were all sitting around a table at Cookout celebrating our team. As we reflected on our successes, three key elements began to stand out: we trusted our team, put our team first, and had fun. I sat there contemplating those elements and slowly drinking my Cheerwine float, knowing that once the float was gone our time as a team would be gone too. Then I realized, great teams aren't created by chance, they're built. I can't recreate my summer practicum team, but I can work hard to replicate the key elements of teamwork that made us successful. Any team that trusts each other, puts each other first, and has fun will be a great team. As I got in my car to drive home for the last time during summer semester I could hardly believe that the most important things I'd learned in my time so far at the Institute for Advanced Analytics was not about analytics, but teamwork.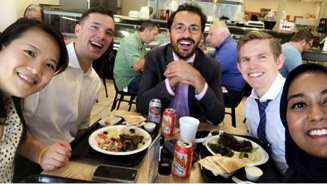 Columnist: Tom Pinckney