I have always been drawn to listening and writing stories, but I never knew that this would lead me to Data Science. Prior to joining the Institute, I told stories through graphs and charts on dashboards catered to different audiences. As a Filipino immigrant in the US, I knew I wanted to make an impact to my fellow Filipinos and to underrepresented communities, and in the realm of Big Data, I knew representation in Data Science would take me one step closer to that goal.
I didn't want to just create stories from data sets handed to me, I wanted to get behind the scenes and ensure that data sets are better and more representative.
When I migrated to the US seven years ago, I only knew of Data Analytics, but not Data Science. When I was working as a Technology Consultant in the Philippines, I never heard of nor thought of Data Science as a field I would find myself in. The Philippines is considered as a tech start-up hub in Asia, but Data Science is still not as popular there as it is here in the US.
In recent years though, Data Science is growing more popular in the Philippines, and there have been efforts that attest to this. According to CNN, by this year, the Philippines will require over 340,000 professionals in the Data Science field. Major universities there started offering Data Science programs to produce future Data Scientists to hopefully meet the increasing demand for the job. Some of the projects that I've heard of are Eskwelabs (a play on the Tagalog word, eskwela, which means "school") and Smarter Philippines through Data Analytics Research and Development, Training and Adoption (Project Sparta). 
Eskwelabs was founded in 2019, and it aims to equip female freelancers with the data literacy skills needed in the Data Science field. They have partnered with FHMoms (Filipina Homebased Moms), a large online community of work-from-home moms to upskill over 10,000 female learners and get them ready for jobs that require advanced data skills.
Project Sparta, on the other hand, gives learners the option to pursue pathways that will prepare them for the usual roles in a Data Science team – Data Associate, Data Steward, Data Engineer, Data Analyst, Data Scientist, and Analytics Manager. The goal is to produce Filipino Data Scientists who can put their skills to help the Philippine society.
Both programs aim to entice more Filipinos to pursue a career in Data Science by providing accessible online education to individuals who are interested. I hope that the trend continues upward — Data Science can be instrumental in solving many issues in the Philippines — from solving the terrible Manila traffic (one of the worst in the world) to addressing inefficiencies within the Philippine government. Getting more Filipinos in Data Science, whether it be in the Philippines or here in the US, would help the field become more inclusive for all communities.
Filipinos are the third largest Asian group by population in the US, so having more Filipino Data Scientists across all industries would definitely add the needed perspective when developing algorithms and machine learning models where bias can thrive.
We already know numerous issues surrounding the fairness of algorithms and machine learning models out there, so representation matters more than ever. One of the biggest reasons why I joined the Institute for Advanced Analytics (IAA) is realizing that while Data Science has the potential to help many people from different walks of life, it can be destructive if there is little to no diversity present in the field.
An example of why representation matters is a story that I read in the  New York Times about how the high infection and mortality rate of Filipino nurses in the US during the COVID-19 pandemic remained invisible and underreported. Would that have happened if Filipinos were represented when surveys were conducted or when reports were created? Probably not. 
Unfortunately, there is still not a lot of Filipino representation in the Data Science community. But I believe that joining the IAA was the right decision for me. The IAA is committed to producing future Data Scientists who put diversity, representation, and ethical considerations at the forefront of their work. Our cohort was the first to get formal classes on Ethical Considerations for Data Professionals, something that will really help us be more mindful of biases (in the world and our own) as we embark on our careers. If you are interested in Data Science and are passionate about diversity and inclusion, then IAA's MS Analytics is the right program for you.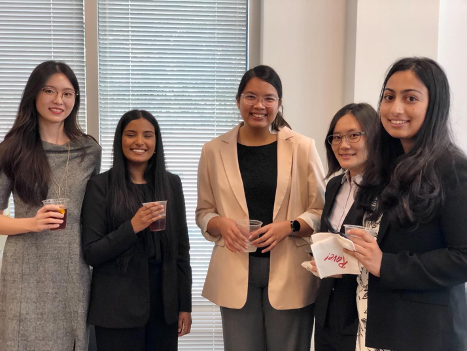 Columnist: Ellaine Paloma