Let's call it 25% holiday party, 25% celebrating the end of classes, and 50% bidding a happy farewell to 2020. After an intense and unique semester of online coursework and team meetings, the IAA Class of 2021's holiday party was no different: we bonded as a class, partook in a variety of activities, and raised over $1,700 for charity, all in a virtual setting.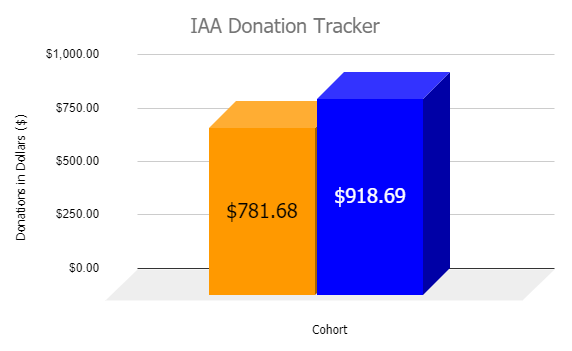 The Planning
The Party Planning Committee was composed of students, faculty, and staff. Little was certain as we worked in the uncharted territory of virtual party planning, except for the fact that the IAA wanted to use the event to raise money for a local charity: the Food Bank of Central and Eastern North Carolina.
As aspiring data scientists, we considered methods we could use to raise as much money as possible. We assumed that a faculty performance would incentivize students, so we performed a (perhaps not-so-statistically sound) survey of our classmates to see whether the amount of money they would be willing to donate would increase if there were to be a faculty performance. Based on our sample, we found that students would be willing to donate 86.4% more money to charity if there were a performance.
Armed with this statistic, information about the efficacy of the food bank's work, and the more than ample amount of technical communication training the Institute provides, we put together a fully structured presentation for faculty, asking if they would be willing to help. The faculty at the IAA are wonderful, so it was no surprise that they readily agreed to perform in the name of incentivizing greater donations for the food bank!


The Party
The party itself included some truly classic events, but also a few that only work in the virtual setting. For example, a classmate's dog won the ugly holiday apparel contest!


With 119 people in the Class of 2021, the Planning Committee had to get creative when making a Zoom party both fun and interactive. The party included 6 breakout rooms to choose from: IAA Trivia, Pictionary, Never Have I Ever (IAA Edition), 2 rooms for mingling (think virtual snack table), and a quiz of fun facts about the members of our class.
Like the fun facts game, which required us to respond on our phones, another event was well-suited to the virtual format: the meme competition. In addition to being incredibly bright and technically savvy, our classmates can be described as phenomenal authors and connoisseurs of memes. Classmates regularly add memes to a Slack channel dedicated to the craft, so we made sure to leverage this creativity in our holiday party.


And finally, because students surpassed the fundraising goal, we were treated to several fantastic faculty performances. We knew our staff and faculty were talented, but we had no idea that their dancing and acting skills rival their teaching abilities.
Many of us were brought to tears from laughter as Dr. Egan Warren, Dr. Healey, Dr. LaBarr, and Brandon Barbour showcased their dancing or acting skills. Dr. LaBarr gave strict orders that the performances were not to be recorded (but if you ask around, you may find that videos of the dances and skits have already circulated among students).


Reflection
The holiday party reflected the generosity, creativity, and perseverance of the IAA's faculty, staff, and students. We found joy in coming together to raise money for people in need while taking advantage of the opportunity to get to know one another through games and competition. The year 2020 will be remembered as one of great challenge and struggle. However, the virtual holiday party will be remembered for the laughter, fun, and generous donation to the Food Bank of Central and Eastern North Carolina that it provided.
Columnists: Meghan Cioci and Erin St. Jeor