The Institute for Advanced Analytics attracts aspiring data scientists from around the world, with nearly 20 percent of MSA alumni hailing from outside the United States. To better support this population, Kate Bagley, the Institute's Assistant Head of Career Services, introduced Conversation Club at the start of the MSA Class of 2020 program.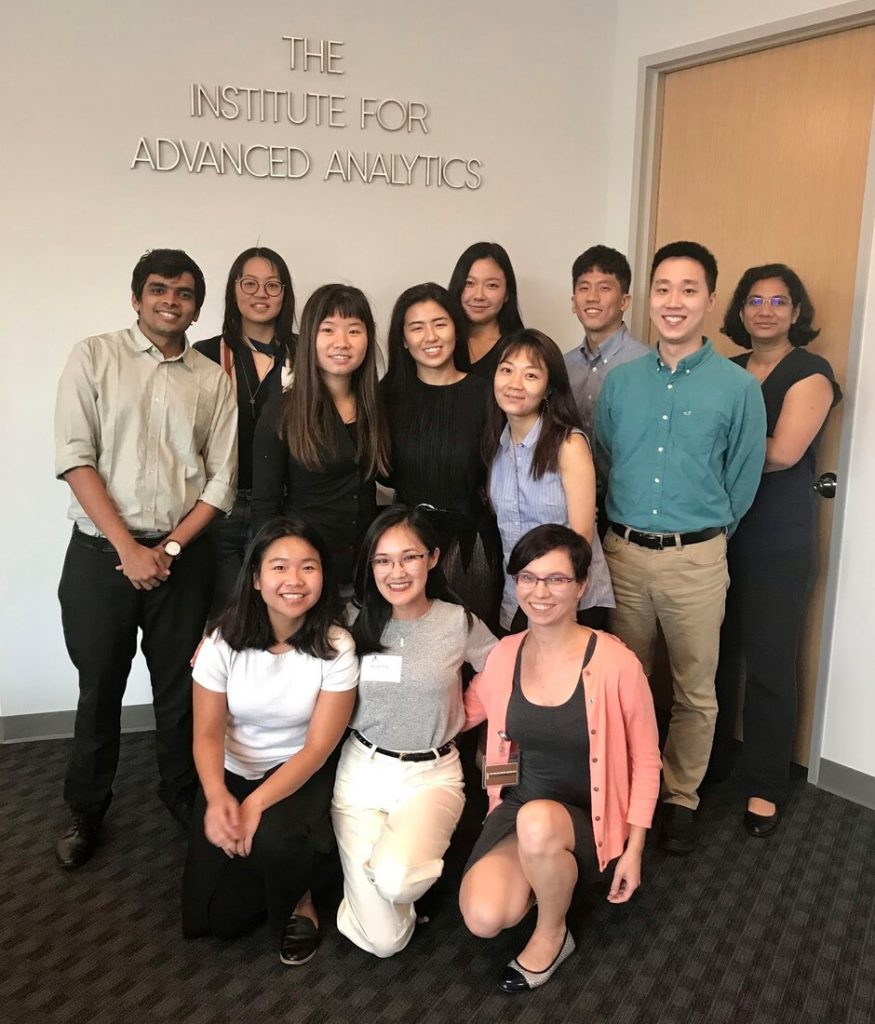 While most international students enter the MSA program with a high level of English proficiency, non-native English speakers face other language challenges at the start of the program.
"International students tell me that they understand 80 to 90 percent of what faculty are saying in class but only 50 to 60 percent of what their classmates are saying," explains Bagley. "We speak so idiomatically that we're not even aware of it."
Native English speakers tend to unknowingly include confusing phrases that, if taken literally, can be misunderstood. This often creates stress for international students on top of the other challenges they encounter throughout the rigorous MSA program.
Bagley hopes to alleviate some of this stress by hosting Conversation Club, where students have the option of meeting weekly to participate in activities to improve conversational American English skills.
These activities focus less on grammar and vocabulary and more on how to sound like a native speaker. Students learn about idioms, culture, job interview expectations, and politeness: all issues that vary among cultures. Some common questions students ask are, "How do you politely interrupt someone?" and "How do you treat a team leader or faculty member differently than a peer?"
It can be jarring for international students to observe how their American peers ask questions of the faculty during class, as some other countries don't have the same educational environment. Learning how to approach these cultural differences can help these students become more confident and comfortable in the classroom.
A native of Poland, MSA candidate Kasia Michalska attends Conversation Club every week. "What I enjoy about Conversation Club is that it gives us a place to be more comfortable with job interviews," Michalska said. "But we can also have a casual conversation about American culture, like at our last meeting where we discussed Thanksgiving and what it means to Americans. It fulfills both roles for getting immersed in American culture and preparing for interviews."
The most significant improvement Bagley sees in students who regularly attend Conversation Club is increased confidence. Students are more willing to participate in activities and demonstrations in these meetings. They also apply the lessons they learn in Conversation Club to their interactions with classmates and practicum teammates.
While the program was designed with non-native English speakers in mind, Bagley also encourages domestic students to attend Conversation Club.
"The goal of Conversation Club is not just to get international students to adapt to American culture, but also to have American students recognize that cultural differences come into play in group dynamics and that we live in an increasingly global society," she said.