On the second day of their MSA Class of 2019 Orientation, we interviewed Greg McElveen and Garrett Pedersen. Their class had just completed the Gallup CliftonStrengths assessment, one of several tools the Institute uses to help students better understand the unique talents they bring to their teams and their work. The assessment results revealed something unusual (odds of roughly one in 275,000): that McElveen and Pedersen were CliftonStrengths "twins." This means they share the same five top strengths: Analytical, Context, Learner, Relator, Restorative.

Prior to beginning the MSA program, McElveen worked in retail management, and Pedersen was a high school math teacher. Both held undergraduate degrees — economics and mathematics, respectively — from UNC-Chapel Hill. In their June 2018 interview, McElveen and Pedersen spoke about being eager to immerse themselves in data analytics and explore the range of careers this skill set unlocks. Upon graduation, McElveen accepted a position as senior decision scientist, AVP at Fifth Third Bank in Cincinnati, Ohio, and Pedersen stepped into a marketing analytics lead role with DISH Network in Denver, Colorado.
We checked in with them recently to find out how their professional journeys are unfolding.
When we spoke with you at the start of your MSA experience, you indicated you were open to exploring career possibilities in various industries. How did you land your post-MSA job?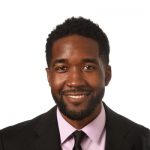 McElveen: I think it ultimately came down to the people. I did end up exploring a number of opportunities in a number of industries, and I think I could have been successful in a lot of them. What attracted me to Fifth Third were the people: their level of analytic maturity, the depth of Institute alumni, their attitude toward banking, and eye toward diversity. They also do cool work. 🙂 I've come to understand in my years of prior work that the people you work with are a big determinant of whether you enjoy the job, and so far, I'm having a lot of fun!
Pedersen: What I think is very illuminating is that having an open mind and giving every industry/company a chance resulted in me going into a field entirely different than I thought would best suit me. I was not sure what to think when I saw DISH Network on the information session list. After going through multiple information sessions and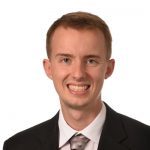 interviews, important factors such as work-life balance, enjoying the people you work with, job description, and location became much clearer. DISH Marketing satisfied all of those factors and quickly became my top choice. I was fortunate enough that DISH felt I would be a good fit and could contribute immediately.
What does your role look like, day-to-day? What do you enjoy most about your work?
McElveen: A typical day starts with meeting with my team to talk about projects we are working on and how to proceed; maybe meeting with a stakeholder or two (we act as internal consultants to groups within the bank) about the work; have a few 1:1 meetings with fellow peers to shoot the breeze; and spending heads-down time working on the projects at hand. There are many things I enjoy about my work: 1 – it is challenging, allowing me to use all the skills I learned at the Institute; 2 – we are involved in most of the projects from inception to completion; 3 – we are in meetings with stakeholders the entire way through and our thoughts are highly regarded; 4 – lastly, a lot of the work is attached to big bank initiatives and it is rewarding to see your role having an impact.
Pedersen: The role of marketing analytics lead on the forecasting team requires me to be dynamic and capable of providing business insight to C-suite executives quickly. Many of my colleagues (some of whom are fellow MSA graduates) are often deep in model development, whereas I am communicating with other teams to help them understand their results more analytically and to forecast how their marketing efforts will pan out. Every week, the forecasting team leads a department-wide results meeting, where we diagnose successes or problems analytically so tactic owners and leadership can design solutions to maximize our marketing efforts. It is a whole team effort that requires effective communication, which makes me ever grateful to the Institute's top-notch technical communications staff who work so diligently to hone our skills to thrive in any workplace environment. 
What aspects of your MSA experience have been most valuable to you in your work and/or life?
McElveen: Everything, LOL! As someone who had essentially zero analytic or programming experience coming into the Institute, I feel I owe a lot to all parts of the MSA experience. The most valuable aspects for me were the classroom and practicum project. I had a lot to learn and found both of those experiences to be where I learned the most. From the classroom, I picked up all of the technical pieces that are proving to be important. The classroom and its associated homework also taught me how to dig and find answers not necessarily in the textbooks — another important skill. From the practicum project, I learned how to relate the technical pieces we learned to real-life problems and working through that with stakeholders. Very valuable, as that is essentially what I do now.
Pedersen: A combination of the technical and team skills I developed through the program (and particularly the practicum project) gave me the opportunity to have a quick impact on the organization. I came into the MSA with almost no programming background, which was a hurdle for me throughout many of the ten months. However, I was able to build a solid foundation that I could learn whatever programming language I needed for the job once I started. Most of the job-specific knowledge like marketing KPIs come with exposure, self-learning, and asking questions — so do not feel that you need to be an industry expert upon joining the team. 
With respect to the MSA experience that was most valuable in life, it is important to get to know your classmates, even those across cohorts, and do as many social activities as possible. I know this is not helpful advice during the current pandemic, but knowing nobody coming into the program and having a stronger preference for introversion, I capitalized on every social opportunity that came along. This helped me when I had to adjust to moving to a state halfway across the country where I only knew my fellow MSA alumni. 
Finally, how do you like to spend your time outside of work?
McElveen: I have three kids between the ages of 8-13, so my life outside of work is usually carting them to their activities. I have two soccer players and one who is a gymnast, so that keeps me pretty busy. When I do get time to myself, I love to golf. I've also recently gotten into the stock market, and I've been working on a trading algorithm. Believe it or not, that's been a lot of fun, too!
Pedersen: Living in Colorado leaves no shortage of outdoor opportunities, especially for those that have a love for the mountains. I have spent a lot of weekends hiking, biking, camping, and skiing with friends and colleagues (not mutually exclusive!) as well as climbing at the local climbing gym on weekday evenings. Having a good work-life balance has always been important to me, so I would certainly recommend that you discover what the norm of any company you're interviewing with is.