The Institute's admissions team regularly receives inquiries from prospective students along the lines of: "I'm interested in the MSA program, but I'm a ________ major. Do I even have a chance of being admitted?" One can fill in that blank with any number of disciplines — physics, philosophy, food science — and the answer is always, "Yes, you have a chance."
Over the next several months, we will shine a spotlight on alumni with diverse academic and professional backgrounds to reveal how the interdisciplinary lens through which they view the world aided them in the MSA program and beyond.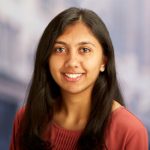 Sneha Bhalodia '17 has a penchant for pragmatism. She majored in computer science at NC State and sought out the MSA because, as she stated in her application for admission, "Similar to my undergraduate experience, I want my graduate education to be applied."
Despite completing her bachelor's degree in only three years, Bhalodia had a rich undergraduate career. She acquired real-world knowledge through internships at Accord Healthcare, PeopleFluent, and SAS Institute. She also served as a student ambassador for both the Department of Computer Science and Women in Science and Engineering (WISE) living and learning community.
During her time in the MSA program, Bhalodia and four teammates — including team lead Rose Nyameke '17 — applied their growing analytics toolkits on a practicum project sponsored by Cigna. Following graduation, she worked as a senior associate analytical consultant at SAS for a little over a year before transitioning to her current senior data scientist role at Red Hat. We recently asked Bhalodia to offer perspective on her academic and professional trajectory.
How did you become interested in data science and analytics?
When I started undergrad, I didn't really know what data science was, and I thought I would work as a software developer after graduating. Throughout college, I was introduced to various data science courses, and I enjoyed applying technical coding and statistics principles to draw insights from data. Being at the intersection of the technical and business worlds was appealing to me, and I knew data science would allow me to do that in a variety of industries.
How did your computer science background aid you in your studies during the MSA program? 
My undergrad program helped set me up with a strong technical foundation through assignments that challenged me to apply what I learned in class in new ways, and by allowing me to continue developing problem-solving abilities. The program instilled a sense of lifelong learning with the knowledge that technologies and programming languages will continue to evolve.
During the MSA program, I got to apply my technical skills to a wide variety of problems in class and in the healthcare industry for my practicum. It certainly helped knowing some programming concepts when we started learning SAS during the Summer II term, which was a new language for me at the time. 
Can you tell us about the work you are doing now in the field?
I'm currently a data scientist on a global finance analytics team where I partner with teams across finance and sales operations, and leverage data to draw actionable insights about the business. I collaborate on a cross-functional project with marketing, customer engagement, and product data science teams, where we train machine learning models to predict and better understand customer behavior. I enjoy working on various technical aspects of analyzing data and building models, as well as working with stakeholders to understand their business questions and designing a solution to help answer them.


What was the greatest highlight of your time as an MSA student?
I enjoyed being surrounded by classmates who were team players that were passionate about data science, all coming with their own diverse backgrounds and experiences. The program develops a great community of faculty, staff, and students, and I'm grateful to have worked with many of my classmates not only throughout the program but even in my roles following graduation.
What advice would you give to students currently in the program? 
Learn as much as you can from everyone you're surrounded by, but don't stress about knowing every little detail of every topic in the fast-growing field of data science. The program sets you up with a strong foundation, which you will continue to build on throughout your career.