Many of NC State's Master of Science in Analytics (MSA) students indicate that they learned about the Institute through a friend or family referral. Indeed, some have seen the stresses and successes of the MSA up close as a roommate, sibling, partner, or spouse completed the program. Occasionally, partners and spouses have made sacrifices and supported one another, financially and/or emotionally, as they took turns completing the degree.
Chris '17 and Erin St. Jeor are one such couple. Both completed bachelor's degrees — Chris in economics, Erin in education — at Brigham Young University-Idaho in 2014. Following his undergraduate studies, Chris worked as an economist at the Idaho Department of Labor, where he was responsible for analyzing trends and providing labor market forecasts for the state. Since completing the MSA in 2017, he has worked as a data science consultant at Zencos and is active in the field, presenting webinars and workshops as part of various professional organizations and conferences. Erin's background is in teaching, curriculum development, and volunteer work centered around public policy and helping children. Most recently she taught kindergarten in one of Wake County's public schools. She is currently a student in the MSA Class of 2021.
Read on to learn about the St. Jeors' experiences as MSA students and spouses.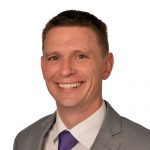 When Chris was admitted to the MSA, the two of you were living and working in Idaho. Chris, how did you learn about the program?
Chris: I had been working as an economist for the state of Idaho and I was looking into my next steps. One afternoon Erin told me about a data analytics program at NC State. I'm embarrassed to say this, but I actually laughed at the idea of moving to North Carolina. I was born and raised on the west coast and had no plans to move. Erin was persistent, though, and as soon as I looked into the program, all my plans changed. I knew the MSA program was what I wanted to do.
Erin, what was it like for you to quit your job and relocate across the country when Chris enrolled?
Erin: I eagerly anticipated our move to Raleigh, but the realities of moving across the country with two young children and leaving family, friends, and jobs behind quickly caught up with my excitement. We worked through many emotions within our first two months in Raleigh — excitement, fear, gratitude, and worry. Fortunately, Chris and I hosted a gathering for "family and friends of the MSA" shortly after moving to Raleigh, and I met and connected with many other partners of MSA students. Their friendship and support made all the difference in making Raleigh feel like home.
Chris, what were some of the challenges and highlights of your MSA experience?
Chris: I would say my biggest challenges and highlights involved my practicum experience. Without going into too much detail, our practicum project was much more challenging than anyone expected it to be. I remember feeling like we had squeezed all the information we possibly could from the data as we approached each major milestone. My teammates were incredible, though, and we were able to discover findings that we had not anticipated. The findings we were able to provide completely changed our sponsor's organization; they were on a much better path moving forward. It was one of the most rewarding experiences I have had in my professional life.
Chris, what does a typical day on the job look like for you? What do you enjoy most about your work?
Chris: I honestly couldn't ask to work for or with better people, and I absolutely love the work that I am doing with Zencos. It's a highly collaborative and fast-paced environment where I am expected to be a jack-of-all-trades. I can be building a predictive model one day, building out an open-source workforce analytics portal the next day, and then doing a SAS Viya install the next. It's constantly changing every day. I sometimes feel like I'm being asked to drink from a firehose and then perform, and that's what the IAA prepared me to do.
Erin, you're about two months into the program, and you've experienced it under the unusual circumstances of the COVID-19 pandemic. What have been some of your key takeaways or wins (of the personal and/or team varieties) thus far?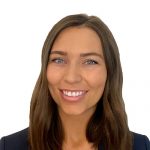 Erin: Especially given the current state of the world, I am fortunate to wake up feeling excited every day. I am glad to be engaged in meaningful work alongside peers whom I respect and faculty and staff who are committed to our learning and growth. I worried about how an intensive, in-person learning experience would translate to an online platform, but my concern quickly dissipated as I got to know the people of the MSA program.
Because we're experiencing this program online, we are all just a click away from offering support and encouragement to one another. It's become routine to share Zoom links on Slack and extend open invitations to work through programming or statistics problems together. I've learned to reach out to past and current teammates just to talk or to discuss the information we are learning. This program is intense, and I am amazed by all that I have learned in just two months — and much of my learning has come from the experience of working with kind, generous, and hardworking peers.
Erin, you had a front-row seat to watch Chris' experience at the Institute. What motivated you to follow in his footsteps and pivot your own career toward data science?
Erin: When Chris went through this program, I did not at all envision myself following in his footsteps. I got dizzy when flipping through his textbooks. "Is eigenvector even a word??" At the same time, I often overheard Dr. LaBarr's recorded lectures and I recognized his and others' phenomenal teaching. I also saw how happy Chris was, even as he was leaving for school at seven in the morning and returning from the library just before midnight. Though I didn't see myself participating in the program, I gained a great amount of respect for it.
Fast-forwarding a couple years, I was back in the classroom, working as a teacher. I knew that the day-to-day work I did was important and I enjoyed connecting with my students and their families. At the same time, I felt like I was putting a bandaid on a huge problem. I felt the need to do something to impact education more broadly by addressing the public policy that affects the lives of children. Knowing that answers could be found through data analytics, I signed up for programming and stats classes. My path forward became clear at that point: I loved learning about analytical tools and I knew the impact this kind of work could have. I realized that I needed to attend the IAA.
What are some ways you provide(d) support to your student-spouse?

Erin: Showing kindness and understanding has been the most meaningful way to support one another. A natural empathy comes with switching roles the way Chris and I have. I remember what it was like to take care of our kids and household tasks and remain positive as Chris attended class or studied for 70+ hours a week. And Chris understands what it feels like to balance studying and working for all those hours with staying present and involved with our family. We both try to lead with kindness while taking the time to connect and have fun in small moments.
What do you like to do for fun?
Chris and Erin: Though we look forward to being able to return to some of our pre-COVID hobbies of playing indoor soccer together and going out for dinner or drinks, we have enjoyed family bike rides, game nights, and movie nights lately. Our two kids are adventurous and keep us busy and entertained.