Adaptability is a hallmark of NC State's Institute for Advanced Analytics. We continuously assess and modify the MSA curriculum to ensure its contents will prepare graduates to meet — or exceed — the ever-changing expectations of their future employers. Much like a startup team, our faculty and staff wear many hats and take an all-hands-on-deck approach to ensuring MSA students receive an excellent education.
It should come as no surprise, then, that the Institute's response to the COVID-19 pandemic was swift and intentional. The university announced in early April that there would be no on-campus instruction during the Summer terms. While, admittedly, there was a collective moment of panic among our team and the incoming student cohort, we quickly realized that this was an opportunity to reimagine the MSA experience for our current reality.
Harnessing Dr. Sarah Egan Warren's and Dr. Aric LaBarr's expertise in instructional design best practices, we succeeded in creating a "high-touch" virtual learning environment for the MSA Class of 2021's Summer term. Faculty held regular office hours and problem sessions, and professional development coaches met individually with each student, all via Zoom. Students quickly began holding virtual study groups and game nights and establishing interest-based channels for meaningful dialogue within their Slack workspace. Those who felt comfortable doing so participated in small in-person gatherings at local parks, abiding by mask-wearing and social distancing guidelines.
Our Fall semester is now underway in a hybrid virtual/in-person format. Until the day when it's safe for us to convene as a full group, we are making the most of the resources available to collaborate. Just as the MSA teaches students how to wrangle messy, ambiguous data sets, the COVID-19 era is teaching all of us to embrace uncertainty through flexibility and creativity.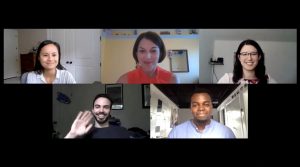 Hear from MSA '21 students Ashley Avis, Ethan-Cole Evans, Thu Le, and Jake Turney about their experiences thus far.