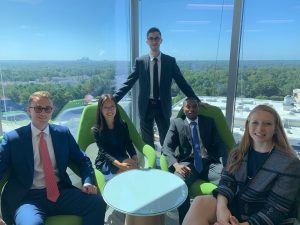 While courses are still underway, students in NC State's Master of Science in Analytics (MSA) Class of 2020 are also dedicating a great deal of time this month to their job searches and practicum projects. With the finish line in sight on their eight-month projects, practicum teams are developing early drafts of the business reports they will present to their sponsors in April, as well as other deliverables they've agreed to produce.
This month, we'd like you to meet the Optum practicum team. Optum, a first-time MSA practicum sponsor, is a leading information and technology-enabled health services business. With more than 165,000 team members worldwide, Optum delivers intelligent, integrated solutions that help to modernize health systems and improve overall population health. Headquartered in Minnesota, Optum is part of UnitedHealth Group.
"Optum's project has been a very realistic, end-to-end learning experience," said Sandy Preiss, team lead. "We've done everything from building a data dictionary to applying a cutting-edge machine learning algorithm in a novel way. Fortunately, my teammates are all eager to face new experiences together. That has also come in handy when we've gone contra dancing, rock climbing, and shared some pretty epic meals!"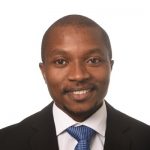 Emmanuel Kinuthia of Kenya holds both BSc and MSc degrees in agricultural economics. Over his eight-year research career he oversaw the establishment of 100+ farmer-owned associations across East Africa. When he was not discussing production optimization with farmers over breakfast, he was in boardrooms with the organizations' management, exploring strategies to improve business processes for sustainability. One of his several journal articles was selected for presentation at the 2017 European Association of Agricultural Economists Conference. For fun, Emmanuel watches tech shows like Click on BBC, plays guitar, and lifts weights in the gym.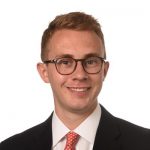 Michael Marchetta's interest in data science emerged from his lifelong love of Formula One racing, where teams use data to make split-second decisions to improve race results. A Raleigh native, he was the first graduate of William Peace University's business analytics degree program. As a financial analyst in the pharmaceutical and clinical research industries, Michael assisted in the development of new revenue recognition processes and gross profit and cost analysis calculations. In his free time, he enjoys running the American Tobacco Trail with his golden retrievers, Enzo and Dino; reading the latest book by Michael Lewis; and traveling.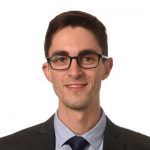 With four years' experience managing the evaluation of multimillion-dollar public health programs, Sandy Preiss thrives at the intersection of data and people. At the American Cancer Society he built systems to collect and use HPV vaccination intervention data. Prior to that he worked for international nonprofit Ipas, managing the organization's databases and traveling across Africa to train its staff on data use. A Raleigh native, Sandy holds a BA in psychology from UNC-Chapel Hill and a master of international studies from NC State. He enjoys rock climbing, mountain biking, and cooking with his fiancé, Dani.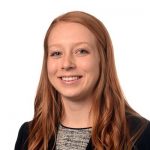 While earning an undergraduate degree in applied mathematics at Appalachian State University, Paige Spell tackled minors in biology, statistics, and computer science. Eager to apply this diverse knowledge, she spent a summer working on a biostatistics project for the National Institutes of Health in Denver. There, she gained technical skills in random forest generation and data visualization — and discovered her passion for using data analytics to make a difference. A native of Boone, NC, Paige is an outdoors enthusiast who also enjoys reading murder mysteries, contra dancing, and training at the local CrossFit gym.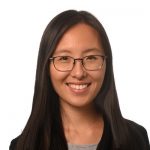 Sharon Yao has long aspired to use data to make a systematic impact on people's lives. While a sociology major at Duke University, she conducted research on juvenile delinquency with a prominent advocacy group and presented her team's analytical findings on Capitol Hill. This contributed to the outlawing of solitary confinement of minors in several states. She gained further experience applying analytics while consulting for global education and manufacturing companies and volunteering with the American Cancer Society. For fun, Sharon enjoys reading detective stories, experimenting with novel cuisine, and going on adventures with her Pomeranian.