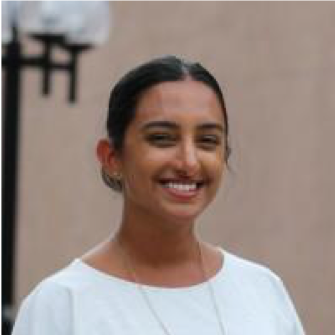 Meet Sneha Raghavan '17. Following her undergraduate career as an international relations major at The College of William and Mary, Raghavan began dabbling in data analysis as a research assistant for the Center for Strategic & International Studies and the Center for Global Development, both Washington, DC-based think tanks. She then joined digital marketing agency Whereoware, where she assisted B2B clients as an online marketing manager. Since completing the MSA, Raghavan worked as a data scientist first at Red Hat and now at Pendo.io, a software startup headquartered in Raleigh. We recently talked with her about her data science journey.
How did you first become interested in the field of data analytics?
I studied international relations as an undergraduate, and got acquainted with basic econometric tools, which I continued to use as a research assistant at think tanks in Washington, DC for the first three years of my career. I started applying some of these skills while working for a marketing agency as a marketing manager, managing projects for customers with data-specific needs. During this job, I got very interested in learning how to use statistical modeling to help customers intelligently design marketing campaigns, target the right segments of users, and experiment in order to make their money go further. 
What was your greatest highlight during your time as an MSA student?
I thoroughly enjoyed the opportunity to learn from my peers. The relationships and friendships I made that year continue to give me value, both professionally and personally. I still regularly ask my peers from the program for advice on solving data science problems, and also consider some of them to be my closest friends today.
During MSA, you were the team lead for your practicum project with Red Hat. How did this experience prepare you for your career after graduation?
Being part of a team that was solving a very interesting problem certainly allowed me to understand how to take a complex problem, break it down into parts, and deliver a solution in a way that has served me well in every project since graduation. Now, working for a startup with a small analytics team, I am responsible for scoping out and managing my own deadlines, as well as delivering solutions that can be operationalized effectively. Working with smart, motivated people on a time-sensitive project gave me a lot of practice on this front.
What advice can you offer to prospective MSA students?
Go in with an open mind. Read a lot, whether it's magazine articles or case studies, to bridge the gap between what you learn in class and real-world implementation challenges. Treat every class as a chance to add something new to your toolkit, and give it your best.

Be humble and be a team player. We are taught to showcase our skills (which is valuable!), but it is equally important to approach peers with humility, a willingness to learn, and an assumption of best intent. You will get more out of not just the program, but life in general with this attitude.

Have a growth mentality. Be willing to use coaching as a chance to identify your weaknesses and talk through ways you can improve them. Being in class and on teams with such smart, motivated people can trigger a lot of insecurities, but these triggers can be a chance to learn something new and become a better data scientist, and a better person. In turn, understand what you can contribute towards your peers' development, and try to be a guide and help peers when it comes to your own strengths; whether it's communication, interview practice, or code help, everyone is there to learn something.
What do you enjoy doing for fun outside your analytics work?
I like to travel — this past year I've been to Italy and Greece on vacations. While in Raleigh, I enjoy taking classes in creative pursuits like fiction writing or painting, to exercise a different part of my brain than I do at work.