It normally takes me some time with people to open up and truly be myself. However, when coming into the Institute, I told myself that I was going to be as open as possible and try hard to make new friends.
Because the Institute and my fellow students have been so incredibly welcoming, I have found making friends here to be the easiest it has ever been.
My number one piece of advice for making friends at the Institute is to join any group conversations that classmates make such as Slack channels and GroupMe chats and attend any activities that interest you.
These group activities with classmates have opened me up to them, and they have been great times to connect and laugh with my fellow classmates (now friends).
Some of the best activities that I've participated in have ranged from sports pick-up games to board game nights. There is such a diversity of activities that almost all interests are represented at the Institute. Every weekend we enjoy Soccer Saturdays. Everyone of any skill level is invited to play soccer together on Saturday mornings, and this was one of the first activities I joined after the start of the program. I'm not the best at soccer as it is not my main sport. But everyone has fun, and every Soccer Saturday has been a great time. 
On the other end if you aren't that big into sports, one of the Institute's very own, Brandon Barbour, loves to organize a board game night, where everyone is invited to play games of all kinds from his collection. And if you have your own board game collection, you are more than welcome to bring your games and run a table with others. These have been great breaks from the program's academics, and they all facilitate relationships with colleagues, staff, and faculty.
The absolute best activity so far has been our trip to Carowinds, which was organized by one of the students, Jason Blaisdell. A group of 12 of us drove to Carowinds, one of the best amusement parks in the US. Located in Charlotte, we took two cars on a 2-and-a-half-hour drive from Raleigh to Charlotte and back and spent the entire day in the park. I personally don't enjoy the biggest roller coasters, but the park has activities for everyone, and it was a great opportunity to learn more about everyone on the trip.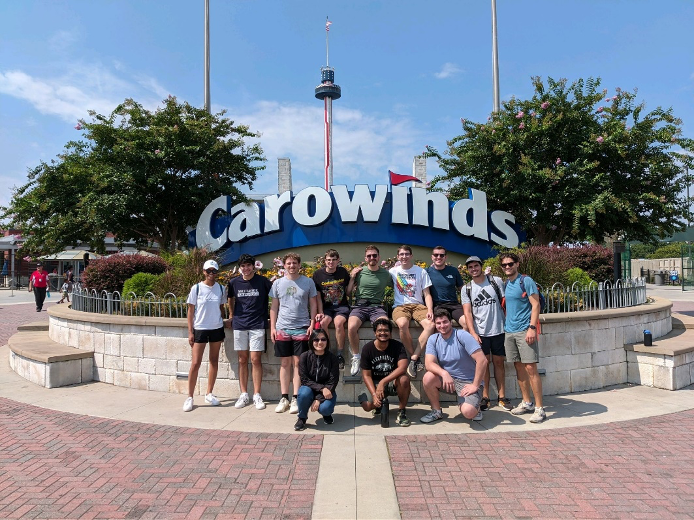 Now, what benefit do these events give you besides great times with even better people?
Building close relationships with my classmates have resulted in:
Better collaboration on teams and schoolwork.
Great experiences that helped me build better communication skills.
Genuinely a better experience for my time here.
For any future students in the program, I would recommend setting up get-togethers similar to these at the start of the year, so that everyone gets a head start to know each other before you get split up into teams. It helps both personally and academically.
This program may be tough at certain times (and some weeks are going to have less room for social interactions than others), but building a connection with people going through the same demanding program as you is one of the best tips I can give to anyone starting out in the program.
Columnist: Patrick O'Keefe
---