As a prospective student, I wanted to know exactly what I was getting myself into. This was particularly important for me because my decisions impact not just my future but my kids' and spouse's too. After having the opportunity to talk with alumni–who also juggled parenting while going through this program–and with my family's support, I decided to take the plunge.
I have found juggling parenting and this program challenging but manageable with the right attitude and strategies in place.
To break down how challenging the MSA program is but also how we were able to coordinate our family life, take a walk through a busy fall day with me.

5 am: Get up. Make my breakfast of coffee and sourdough toast.
5:30 am: Check my email and respond to things I need to. Then open up the October calendar I made for my homework team and begin outlining pacing tasks since I am Team Lead this Fall 2 section.
6 am: My spouse and 2 kids wake up. I get to talk a bit with my husband while getting the kids' cereal. I had a few more tasks to put on the team calendar then I quickly outlined an agenda for my homework team meeting at 9 am. I also switched a load of laundry from the washer to the dryer.
6:30 am: I rouse the last kid from her warm bed and get her breakfast. It's time to get all the kids dressed while packing snacks and lunch for my husband.
7 am: My husband leaves with the youngest to drop him off at daycare before continuing on to his job. I finish packing snacks for the older two kids and my own lunch of yesterday's dinner leftovers.
7:30 am: Time for me to get dressed and ready for the day. Business casual is the usual expectation but sometimes business formal is required for presentations or if we are having guests. It's a good idea to check the calendar before picking your outfit.
8 am: Throw the breakfast dishes in the dishwasher and get that going before getting everyone to pack their backpacks. Get the two older kids loaded in the car and dropped off at my wonderful neighbor who has graciously offered to watch my kids until the bus comes to pick them up for school.
8:20 am: Start my commute to The Institute. I usually have Second Breakfast in the car. I eat an unfortunately mealy apple. At least I have the string cheese which is good. I really enjoy a short commute because it gives me a chance to listen to podcasts. In the mornings, I listen to The Bible in a Year with Fr. Mike Schmits. Today's episode was The Bible in a Year (with Fr. Mike Schmitz): Day 278: Power in Weakness (2022) (fireside.fm). A personal goal I set for myself at the end of 2021 was to get through this podcast and commuting has helped that goal a ton. Since today's was a shorter episode (about 20 minutes), I was able to start a second podcast–The Love Prescription, Part 1 of 3 – Brené Brown (brenebrown.com). I chose this one because it's an overview of a new book by the Gottmans that I want to read but don't have time for right now and it's sold out. I really like the Gottmans' work because they give scientifically backed strategies for improvement in relationships. Although their work is specific to marriages, I think that their strategies for giving feedback and responding in a positive way generalize well to all relationships.
8:52 am: I get to the parking deck, grab my stuff, drop my lunch off in the student fridge in Aspen and head to the room I reserved for my homework team meeting.
9 am: Meet with my homework team to go over some feedback we got on our project proposal, discuss the calendar I worked on earlier with them, and divide up individual tasks. Usually, there is a 9 am class but sometimes we get the time to meet with our teams. 
10 am: Our room reservation time ran out so we moved to the communal space to work on individual tasks.
10:45 am: Class time! Today it's Data Mining. Usually, there are one or two classes in the morning before a break for lunch. There could also be guest speakers or time available to work on assignments or meet with teams. 
12 pm: Lunch break! My practicum team decided to meet over lunch today so I grab my lunch out of the fridge and go to the conference room. 
1 pm: Class time! Today's afternoon class is Time Series 2. Afternoons vary a lot. Sometimes there are multiple classes, sometimes there are big breaks for teams to schedule meetings, and sometimes we have guest speakers–remember I mentioned earlier to check for guest speakers to make sure you are in business formal when they are visiting. 
2:15 pm: Class gets out and today we don't have anything else on our schedule. I catch up with my homework team to make sure we are all on the same page about our tasks then find a study room to get myself organized and get my tasks checked off.
My first task is always to update my assignment board (Image below). Then I finish up my data mining quiz and get working on outlining this blog post. I forgot to email the older two kids' after-school taekwondo program to tell them that they will be staying late for their class today, so I got that checked off my list too. I finished up by going over the mistakes I had made on Fall 1 exams so I could learn from them.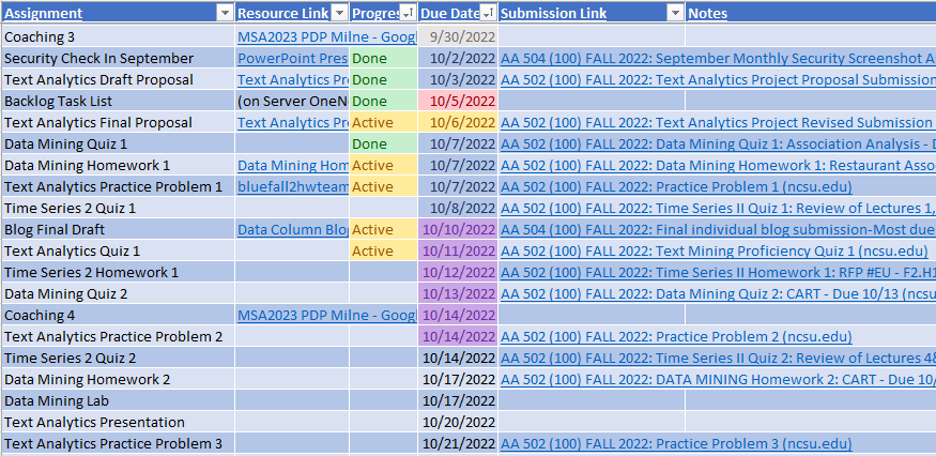 6 pm: Time to head out to pick up my two older kids from their after school program. Usually, I have to pick them up by 6 but on Wednesdays their Taekwondo lessons start at 6 and go till 7 so I can pick them up later than usual. My husband picks up the youngest at daycare before they close at 6 pm and feeds him dinner then starts making dinner for us. On my way home, I stop for gas, which added some time to my commute, but that was perfect because it gave me the chance to finish two podcasts. The one about the Gottmans' new book from earlier and The Lazy Genius Podcast | Podcast on Spotify (transcript here: #279 – How to Fix Dinner When You're Never Home (squarespace.com)). I love this one because she focuses on breaking expectations for situations and allowing yourself to find the best fit for your family's current situation. She loves to share great ideas that others share with her for making tiny changes that have huge impacts on saving time and stress. Although her podcasts' main focus is on busy families, she does a good job being inclusive of her friends that are in different life situations and offers suggestions that generalize well for them too.
7 pm: Pick up my kids and head home for dinner.
7:15 pm: We arrive home and have a nice ravioli dinner. Ravioli is great because it feels fancy when, really, you just boil them, dump your favorite jar of sauce over it (for my family its Ragu Garden Combination), and serve with plenty of parmesan and a salad from a bag. 
8 pm: Since today is our late day, we skip baths and go straight into reading after getting all the kids to brush their teeth and in their pjs. Today we read chapter 15 of Percy Jackson and the Olympians: The Lightning Thief.
8:30 pm: Bedtime prayers and tuck all the kids in. Throw a load of laundry into the washer and add the contents of the dryer to Mount Doom Of Unfolded Clothes that collects all week. Everyone has clean clothes and that is a good enough win for us right now.
9 pm: Get myself ready for bed and look over my notes from my classes that day. 
9:30 pm: Lights out. 
Columnist: Feliciti Milne