"When I picture my dream job, I envision one in which I am able to use both my strong analytical skills and extensive interpersonal skills to make a difference in the world around me," wrote Lauren Williams '16 in her application for admission to the MS in Analytics (MSA) program.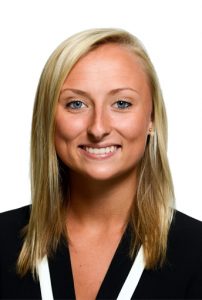 Even before commencing the MSA, Williams took steps to prepare for her "dream job." A Maryland native, she enrolled at NC State as a Park Scholar — one of the university's premier undergraduate scholarship programs that emphasizes leadership, service, and character as well as scholarship. She participated in the Summer Institute for Training in Biostatistics (held at NC State in conjunction with the Duke Clinical Research Institute) and spent the following summer working as an analytics intern at Walmart's headquarters in Bentonville, Arkansas. She completed her mathematics degree in three years and began the MSA program just a few weeks later.
Williams served as the team lead for her MSA practicum project, sponsored by Liberty Mutual. Upon graduation, she worked as a data scientist with the US government for three years. In September 2019, she transitioned to a new role at Microsoft, based in the greater Washington, DC metro area. We recently spoke with Williams about her career thus far and how her time at NC State helped pave the way for it.
You're a data scientist at Microsoft. What does your role look like, day-to-day? What do you enjoy most about your work?
As a data scientist at Microsoft, I spend the majority of my day doing technical work, applying deep learning analytics for government customers. The other portion of my day I engage directly with government customers and collaborate with Microsoft product teams who specialize in the technology. I love that I get to apply the latest and greatest in technology to serve important government missions every day.
Based on your experiences, what are some of the biggest differences working as a data scientist in the public sector as compared to the private sector?
In the public sector, you face unique technical challenges and are forced to apply creativity to provide modern-day analytics. However, the mission of your work is clear and you have an incredibly motivating customer base. In the private sector, modern-day technology is at your disposal and you get to work with some of the brightest minds in the space. However, you now have a responsibility to consistently prove to your customer base that you provide value add.
What aspects of your MSA and Park Scholarships experience have been most valuable to you in your work and/or life?
The Park Scholarships and the MSA program have ingrained in me both a professional rigor and desire for public service that I will forever be grateful for. Often what differentiates me from my peers is my professional attitude, gratitude for life, and continuous ability to prioritize the growth of others, all traits emphasized by these two programs.
In what ways did your practicum project — and your role as a team lead — aid you in your job search and/or your career?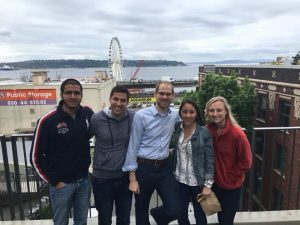 The practicum project was a realistic experience of what it is like to work full-time as a data scientist. It allowed me to learn how to rapidly and effectively execute on customer requirements for an analytical project. In the technology industry, technical skills are a given. It is the application of collaboration and teamwork, two skills heavily emphasized through the practicum experience, that differentiates successful data scientists from others.
The team lead role took the practical analytical experience even further, challenging me to learn how to lead. I was challenged to both drive the analytical direction of the project and lead a team of data scientists through the uncertainty. At Microsoft, these skills have been essential for me to be successful. I am frequently asked to drive the analysis for a new government customer and prove that I can do that well.
How do you like to spend your time outside of work?
Whether it be community service or exploring, I love learning new things and giving back to the world around me. My husband and I enjoy traveling the world, experiencing new cultures, volunteering at relief missions, snorkeling, hiking, whitewater rafting, and sailing.